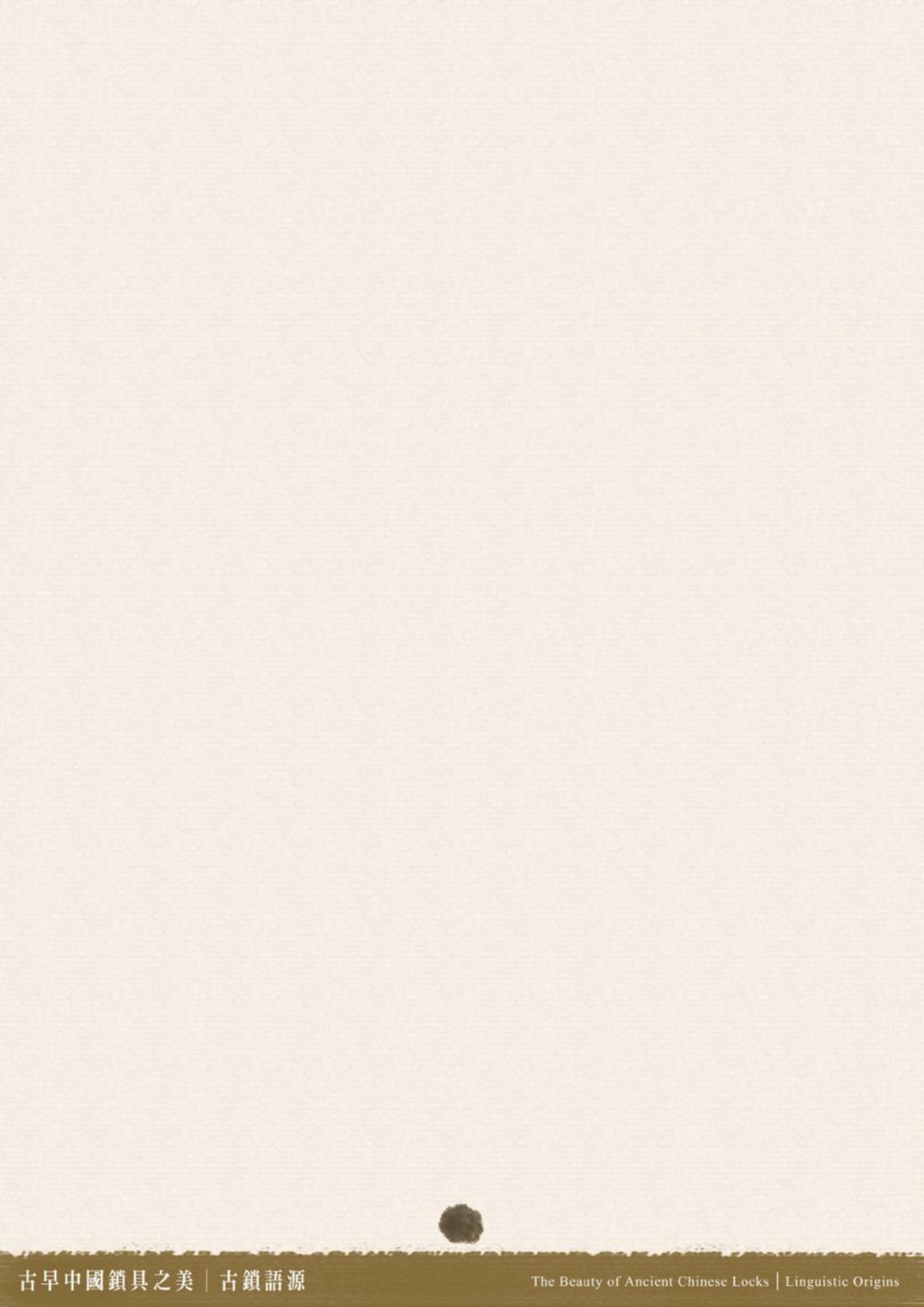 14
The Jing Teng Pian of Shang Shu
(Book of History) states: "Open the yueh
(lock) and one sees the book." Ci Yuan
further interprets: "Yueh is the same as
what we called today yao (lock)." The
book Zhi Tian Lu from the Han Dynasty
contains: "Door locks are of fish-shaped."
Zhang Zi-Lie of the Ming Dynasty in his
work Zheng Zi Tong further explains:
"Yao is used to lock the door, and shi (key)
to undo the yao." And, when Ci Yuan
explained the word yueh, it says: "Suo
(lock) also is named yao."
The Chapter Xiao Er Ya of Han
Shu (Book of Han Dynasty) by Ban Gu
in the Eastern Han Dynasty states: "Jian
is also called ling," while Xu Shen of
the Eastern Han Dynasty in his Shuo
Wen Jie Zi says: "Ling is a suo (lock)."
Furthermore, Chen Peng-Nian and co-
writers of the Sung Dynasty in their work
Guang-Shao mentioned: "Soldiers seal
doors with lings and have mighty axes
ready for emergency."
Zheng Xuan of the Eastern Han
Dynasty in his annotation of Yue Ling
in Li Ji (Book of Rites) wrote: "Jian
(lock), the male part; and bi (keyhole), the
female." The same idea was elaborated by
Kong Ying-Da of the Tang Dynasty in his
annotation of Yue Ling in Li Ji (Book of
Rites) as: "Mu (male) is the inserting part
of locks, while pi (female) is the receiving
part." Ci Yuan made it clear that "The
keyhole on the door lock is called bi." Cai
Yong of the Eastern Han Dynasty in his
Yue Ling Zhang Ju (Phrases on Months)
stated: "Jian is the sealing of mu; it is used
to close the door, and also called yan yi."
This means that mu functions as the lock,
therefore it can also be referred to as the
door bolt.
《尚書 ‧ 金
縢
篇》中有
『啟籥見書』之說,《辭源》
解釋道:『籥今通作鑰』。漢
代《芝田錄》中有『門鑰必以
魚』之說,明代張自烈的《正
字通》解釋道:『鑰以閉戶,
匙以啟鑰』,《辭源》在解釋
「籥」字時說:『鎖名亦名鑰』。
東漢班固於《漢書 ‧ 小
爾雅》中說:『鍵謂之鈐』,
而東漢許慎的《說文解字》則
解釋道:『鈐,鎖也』,宋代
陳彭年等人的《廣韶》中則有
『兵鈐以閉房,神斧以備非常』
之說。
東漢鄭玄的《禮記 ‧ 月
令注》中說:『鍵,牡;閉,
牝也』,唐代孔穎達的《禮記‧
月令疏》解釋道:『凡鎖器入
者謂之牡,受者謂之牝』,《辭
源》解釋道:『門閂之孔曰閉』。
東漢蔡邕的《月令章句》中說:
『鍵,關牡也。牡所以止扉也,
或謂之剡移』,意思是說牡是
用作鎖門的,因此也可以稱為
門閂。